Our Workshops & trainings
Nature's Wisdom
Ecotherapy Immersion & Certification Program
For therapists, counsellors, psychologists, coaches & other health professionals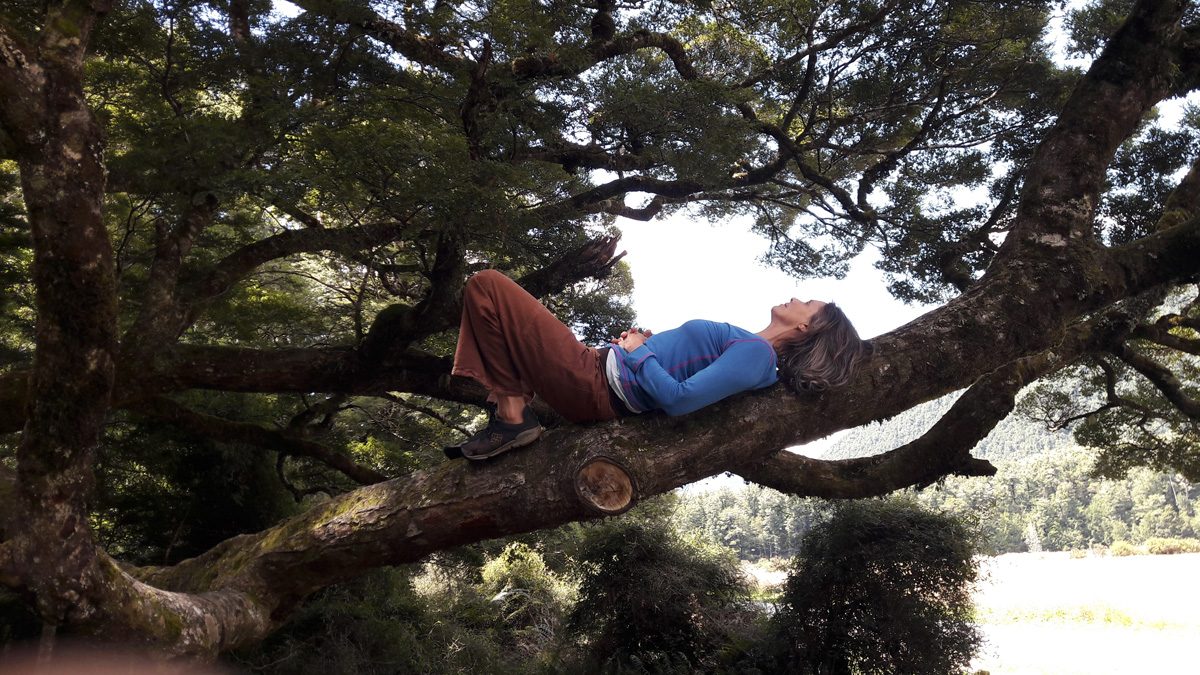 What is Ecotherapy?
We notice it ourselves. We notice it in others. The experience of groundedness, unity, wholeness, connectedness, peace… when we spend time in the natural world. Ecotherapy is not a new concept. It has been an inherent aspect of our existence on Earth for as long as we have been here.
It's only a recent development in human evolution where being in nature is something that we go and "do." Prior to this, our interdependence with nature was an obvious necessity. Consequently, as research is showing, the absence or forgetting of this necessity is resulting in many harmful and discouraging effects, both personally and collectively.
Ecotherapy, then, involves the intentional re-connection with the natural world as a profound gateway to our own healing and renewal.
About this training
This training draws from the work of many before us – those who have received ways of honoring, connecting to, and relating to the natural world from a long line of wisdom keepers.
Alongside this ancient wisdom, we bring the recent knowledge and expertise of the teachers who have dedicated much of their personal and professional lives to broadening the access to, and supporting the embodiment of, these teachings.
We utilize practices that support us in reconnecting to our inherent knowing, discovering our unique place in the natural world, and claiming the healing, growth and transformation this makes possible.
The primary professional modalities that inform this training are: Somatic Ecotherapy, Nonviolent Communication (NVC), Hakomi Mindful Somatic Psychotherapy, Internal Family Systems, Creative Arts Therapy, and Mindfulness. Some specific attention will also be given to working with trauma.
The specific lineage-holders of knowledge that this training takes particular inspiration from are: Dave Talamo with Wilderness Reflections; Steve Foster and Meredith Little with The School of Lost Borders; Joanna Macy with The Work that Reconnects; Jon Young with the Wilderness Awareness School; Bill Plotkin and the Animus Valley Institute; Ron Kurtz and Hakomi Mindful Somatic Psychotherapy, and S.N Goenka with the Vipassana Meditation Centre.
The Structure of this Training
This is a four-module training spread out over two 5 day trainings and one online full day. The two trainings begin on a Sunday afternoon and finish the following Friday afternoon. The 2nd training includes an overnight solo. The one day online training will take place between the 1st and 2nd trainings on a Saturday.
The purpose of the training is to support participants in (a) developing their own intimate relationship with nature, (b) developing a solid structure for facilitating an Ecotherapy session, (c) incorporating a number of different therapeutic modalities well suited for this work (see above), and (d) determining where their own particular level of comfort is in this way of working.
Each of the four modules will revolve around the theme of one of the four cardinal directions (North, South, East and West) and their associated stages of human development and transformation (drawn particularly from the work of Meredith Little and Steve Foster and the School of Lost Borders, and from the work of David Talamo and Wilderness Reflections). As part of each module, participants will explore each of these developmental stages in relation to their own personal life journeys, in relation to the various cycles found in nature, and with regard to facilitating the healing and transformation of their clients.
This training will support you to:
Develop your own intimate & allied relationship with the natural world

Support your clients to create their own intimate & allied relationship with the natural world

Support your clients to access strength-based nature resources

Develop an internal topographical compass and map that will enable you to feel confident in facilitating and navigating an individual or group ecotherapy session

Develop skills for building therapeutic relationships that create safety, boundaries and trust

Create a backpack of therapeutic tools and skills to draw from and weave into your existing outdoor or indoor practice

Explore philosophies and principles that support the practices of Nonviolence, organismic wisdom, unconditional positive regard, authentic communication and loving kindness

Have fun, relax and connect with like-minded people in nature
Course Framework:
4 Modules (over two 5 day trainings and one day long online) 
First Five Day – Modules 1 & 2
Module 1: "Establishing Basecamp" – Resourcing
Theme:  Gathering resources and establishing alliance, with nature, our clients, and our essential self
Module 2:  "The Foothills" – Accessing Theme:  Identifying the therapeutic threshold and venturing forth.
Dates:  March 6th to 11th, 2022
Location:  Waitati Retreat Centre – Waitati (Dunedin, Otago)
      ——————————-
One Day Online Training – Saturday 2nd April
——————————-
Second Five Day – Modules 3 & 4
Module 3:  "Climbing the Mountain" – Processing
Theme:  Navigating the territory of unhealed wounds and unresolved trauma.
Module 4:  "Back to Basecamp" –  Integration
Theme:  Weaving the rewards of this transformative journey into ordinary consciousness and our everyday life.
Dates:  April 24th -29th, 2022
Location: Waitati Retreat Centre – Waitati (Dunedin Otago)
    ——————————-
(Optional) Vision Quest: A personal plunge into the depths of Nature's Wisdom
Theme:  In between the journey of the 2 core trainings, this is an opportunity to further deepen and integrate the knowledge and wisdom you have gained; and to request further guidance and direction from the natural world and the depths of your essential self.
Dates:  18th – 25th March, 2022
Location:  Waitati – Otago
Meet the Teachers:
Toni McErlane – Ecotherapist, Counsellor, Mediator, Nonviolent Communication (NVC) Facilitator, Outdoor Adventurer
Paris Williams – Ecotherapist, Clinical Psychologist, Hakomi Teacher, Somatic Trauma Specialist, Outdoor Adventurer
Brendon Whitmore – Ecotherapist, Craniosacral Therapist, Deep Nature Connection Mentor and Wilderness Rites of Passage Facilitator
Course Investment:  $3,250 
*Optional mid-way 8-day Soul Quest – an additional $1,250 (see below for more details)
* price includes tuition, all lunches/dinners, &  camping  (Airbnb accommodation options locally please contact for details)
Submit Payment to:
Account name:  Restorative Relationships
Account Number:  01-0322-0212196-01
Reference:  [your name]
Code:  Ecotherapy
Do you feel stuck without direction or purpose?
Has the fullness of life evaporated your creative soul?

Are you longing for solitude and reflection to listen deeply?

Or are you wanting to just pause and allow your authentic creative self to show you a more soul driven path?
If you feel ready to plunge into the depths of your own mythic adventure into the wilderness, to step into the humble passage of seeking vision, then we invite you to this ancient ceremony. A ceremony that is beyond any human teaching and until recently has been hiding in the dark rich soil of the forest unseen. This ceremony, sometimes referred to as a Vision Quest, has been carried out pan-culturally as a Rite of Passage for thousands of years and it is now time to re-awaken the ceremony in the modern day so that together we may flourish as individuals and communities with the Earth.
Throughout this ceremony you will be supported by experienced guides and therapists who have all undertaken their own Whale of a dive into the wilderness passage. They encourage you to step into the unknown and give up a little bit of comfort, in return you may just find what you have been seeking.
Structure of the Program
The is an eight day program that includes pre and post individual sessions to support participants to gain the most of their quest experience.
The first two days on the land will be in group where you will be supported by your guides to gain clarity on your intention and to prepare. The solo time is four nights after which your are welcomed back with ceremony by your guides and supported to integrate and weave your experience on the land into your daily life.
Follow up support after you go home in also included.
Why Whale Song?
In Myths, Folklore and Tribal Cultures the world over, Whales are considered the wisdom keepers of our great Mother Earth, where the sacred knowledge and guidance for our personal change and spiritual growth resides. Symbolically, Whale also reminds us to re-connect with our Great Mother, to remember our deeper connection to the ecology of life. The archaic echo sound of the Whale reminds us to slow down and connect to our own rhythmical nature, to feel into our hearts with Earth and remember the heartbeat we all shared when we were in our own Mother's womb.
For more information about this process please contact us to set up a time to answer any questions.
Meet Your Guides:
Toni McErlane – Ecotherapist, Counsellor, Mediator, Nonviolent Communication (NVC) Facilitator, Outdoor Adventurer
Paris Williams – Ecotherapist, Clinical Psychologist, Hakomi Teacher, Somatic Trauma Specialist, Outdoor Adventurer
Jaqueline Sheridan –  Ecotherapist, Transpersonal Therapist, Creative Soul Journey Facilitator & Poet
Brendon Whitmore – Ecotherapist, Craniosacral Therapist, Deep Nature Connection Mentor and Wilderness Rites of Passage Facilitator
Quest Investment:
Early bird rate of only $1,250 until 31st December ($1,350 afterwards)
*includes meals and camping accomodation
Submit Payment to:
Account name:  Restorative Relationships
Account Number:  01-0322-0212196-01
Reference:  [your name]
Code:  SoulQuest
Mindful-Somatic Ecotherapy
Intro Day Long 9.30am -4.30pm
With Bonus Discounted Day Quest on Sunday
Camping available onsite $10/night/person
Basic facilities, running water, composting toilet, no showers, river for swimming
 Waitati, Dunedin  Sat 19th Feb 2022
Do you…..
Ever feel exhausted and fried at the end of a Therapy day spent in the office?
Feeling limited in the ways you can support your clients to dive deeper?
Want more resources to support your client?
Want to feel more resourced yourself?
Find yourself curious about the mysterious relationship between ourselves and the natural world?
Join us for a Somatic Ecotherapy daylong intro and taste the ways in which we can support clients to navigate the shadowed pools, sunlit fields, flowing streams and unclimbed mountains of the human experience. Taste how through some simple invitations and guided mindful enquiry, we can support deep and safe resourcing, processing and integration for our clients, and feel totally resourced ourselves.
This daylong will cover some background to Somatic Ecotherapy, an overview of the processes, some one on one demonstrations and some experiential mini-immersions.
Facilitators will be Toni McErlane & Brendon Whitmore (with the possible contributions of other experienced Eco–therapists).
Cost: $169.00
Registrations www.restorativerelationhips.co.nz
Bonus day Quest Option on the Sunday (Normally $169 but $126 if participating in the Intro to Ecotherapy also. Total for both $295)
Please scroll down to Wild Soul of Summer Day Quest to read more about the Sunday event
An information pack will be sent on completion of registration.

 (Payment is fully refundable if workshop is cancelled, 50% refund if you cancel within 14 days notice, no refund if cancelled with less than 14 days notice).
Submit Payment to: 
Account name:  Brendon Whitmore
Account Number: 02-0708-0247359-00
Reference:  [your name]
Code:  DayIntro
One Day Quest – Nature Immersion Enquiry
 Waitati, Dunedin, Sun 20th Feb 2022
9am – 5.30pm (Basic Overnight camping available for 10.00/person, toilet, no showers, running water, river for swimming)
Fee: 169.00 
"What you seek is seeking you" Rumi
THIS DAY LONG EVENT IS FOR YOU IF:
• You are wanting more direction in your life.
• You are in a transitional phase of life and are seeking guidance.
• You are ready to shed that which is no longer serving you.
• You want to step courageously into your wild soul.
• You are wanting to embed in the life and beauty of the natural world and give space for inspiration.
This day long experience mimics the longer version of the traditional Rite of Passage ceremony as we journey together into Nature and the heat of Summer, a place where you may feel the soul calling you into something more, to mark a point of transition in your life or to seek insight and support to specific questions or challenges.
As we turn towards the months of Summer, what bodily wisdom is lying and waiting to be discovered, what will the flowers in full bloom reflect to you, what thread draws you into a sense full conversation with the Earth. Maybe you are curious about what life would look like through the lens of Summers focus, what Soul calling is waiting in your Summer lands. What song of Spring now wants to come forth from you in the heat of your Summers call.
Summer is a time when we turn our attention to the North! The call of Summers flesh evokes the sensuous impulse of your body. To play and seek out your desires where the Earth is warm and ripened beneath our feet. Summer is a time of the physical body, of childlike happiness and The Wild Soul of Summer Journey invites us into those creative places of our Souls desire, to take our emergent gifts and ignite them with fiery heat into the world.
As part of this one-day soulful event we will follow the 3 phases of a traditional Rite of Passage; Separation, Threshold and Incorporation. We will start the day with coming together in circle to explore each other's intention, in the spirit of open-hearted listening. Stepping out of circle, you will then move into your own individual experience (Separation). Crossing a Threshold, we honour the transition into sacred liminal space where you will enter into a conversation with the land. Returning back through the threshold, you are welcomed back into circle to share what will have transpired out there in the mystery of the Natural world and the Spring landscape. (Incorporation).
"…there is no end, believe me! To the inventions of summer, to the happiness your body is willing to bear". Mary Oliver, "Roses"
If some curiosity has been sparked within you or you feel a sense of calling, please register below at:
www.restorativerelationships.co.nz
Investment $169
An information pack will be sent on completion of registration.
This event is delivered by Brendon Whitmore and Toni McErlane who are both experienced Eco -Therapists and group facilitators who care deeply about personal development, transformation and healing for yourself, others and the more-than-human world.
Meet Your Guides:
Toni McErlane – Ecotherapist, Counsellor, Mediator, Nonviolent Communication (NVC) Facilitator, Outdoor Adventurer
Brendon Whitmore – Ecotherapist, Craniosacral Therapist, Deep Nature Connection Mentor and Wilderness Rites of Passage Facilitator
Submit Payment to:
Account name:  Brendon Whitmore
Account Number: 02-0708-0247359-00
Reference:  [your name]
Code:  WSOS