Our Workshops & Trainings
Mediation Skills for Therapists & Professionals
Dunedin, New Zealand
New Dates:
19th to 21st August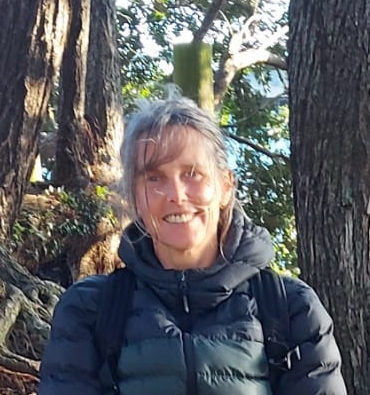 About this training
In this 3-day experiential training, you will develop the essential techniques, skills and philosophical approach to confidently enter, navigate and resolve both minor and major disputes. You will be able to apply these immediately to support families, couples, community groups, and any other parties with opposing perspectives.
This training draws from the internationally renowned principles of Nonviolent Communication (NVC), and from Toni's 12 years of experience providing mediation for couples, families and other groups with differing perspectives and interests.
This training will support you to…
Develop a foundational framework to support consistent and effective conflict resolution and mediation skills

Understand the dynamics and organic process of mediation and conflict resolution.

Develop confidence and ease within conflict resolution

Meet the facilitator
Toni McErlane –  Mediator,  Family Dispute Resolution (FDR) Mediator, Counsellor, Nonviolent Communication (NVC) Facilitator, Ecotherapist
Course Details
19th to 21th August (Fri-Sun)
9:30am – 5:00pm all days
Malcom Trust,  45 Maori Road, Belleknowes, Dunedin (Plenty of onsite Parking and bus stop 5 mins walk away)
Course Investment
$380 ( Early Bird discount – $350 if paid by 31st June)
Submit Payment to:
Account name:  Restorative Relationships
Account Number:  01-0322-0212196-01
Reference:  [your name]
Code:  Mediation
Intro to Somatic Ecotherapy Daylong
& Wild Bones of  Winter Day Quest
Patuha Rainforest Retreat- Taranaki
26th  & 27th August 2022
Fee: $169 Or $295 if registering for Day Quest Also on the Sunday 
Intro to Somatic Ecotherapy
As a therapist or support worker do you…
Ever feel exhausted and fried at the end of a Therapy day spent in the office?
Feel limited in the ways you can support your clients to dive deeper?
Want more resources to support your client?
Want to feel more resourced yourself?-Find yourself curious about the mysterious relationship between ourselves and the natural world?
Join us for a Somatic Ecotherapy daylong intro and taste the ways in which we can support clients to navigate the shadowed pools, sunlit fields, flowing streams and unclimbed mountains of the human experience.
Taste how through some simple invitations and guided mindful enquiry, we can support deep and safe resourcing, processing and integration for our clients, and feel totally resourced ourselves.
This daylong will cover some background to Somatic Ecotherapy, an overview of the processes, some one on one demonstrations and some experiential mini-immersions.
Facilitators will be Toni McErlane & Brendon Whitmore two experienced Ecotherapists.
Wild Bones of Winter Day Quest
27th August 2022
Fee: $169 Or $295 if also registering for Intro to Somatic Ecotherapy on Saturday 26th August
Connect with the inspirational power of nature to allow your inner wisdom to rise up from deep within your bones.
"What you seek is seeking you." ~Rumi
THIS DAY LONG EVENT IS FOR YOU IF:
• You are wanting more direction in your life.
• You are in a transitional phase of life and are seeking guidance.
• You are ready to shed that which is no longer serving you.
• You want to step courageously into your wild power.
• You are wanting to embed in the peace and beauty of the natural world and give space for the wisdom of Stillness.
This day-long experience mimics the longer version of the traditional Rite of Passage ceremony as we journey together into Nature and the stillness of Winter, a place where you may feel the soul calling you into something more, to mark a point of transition in your life or to seek insight and support to specific questions or challenges.
As we turn towards the months of winter, what wisdom is lying and waiting for us in the stillness of the frost, the smell of the rain or the cold on our skin. Maybe you are curious about what leafless tress may call up in you or how the slower polyrhythms of the birds aid us in slowing down. What may illuminate deep within as you give up a little bit of comfort to stand in the heart of Winter's song.
Winter is a time of contemplating and reflecting, of bringing forth the wisdom for you, your family and future generations. It is said that we are all born into this world with a unique gift, and this is our soul's purpose, but where is the soul? In many myths, folklore and cultures the "bones" are considered to house one's soul. The "Wild Bones of Winter" journey invites us into those wild places to discover what lies deep in our own bones, so we may gain insight into what wisdom is wanting to emerge as our gift in this world.
As part of this one-day soulful event we will follow the 3 phases of a traditional Rite of Passage; Separation, Threshold and Incorporation. We will start the day with coming together in circle to explore each other's intention, in the spirit of open-hearted listening. Stepping out of circle, you will then move into your own individual experience (Separation). Crossing a Threshold, we honour the transition into sacred liminal space where you will enter into a conversation with the land. Returning back through the threshold, you are welcomed back into circle to share what will have transpired out there in the mystery of the Natural world and the Winter landscape. (Incorporation).
"The seed must be frozen into its purpose before it can burst its winter casing and shoot forth green fire." ~ Steven Foster
Meet Your Guides:
Toni McErlane – Ecotherapist, Counsellor, Mediator, Nonviolent Communication (NVC) Facilitator, Outdoor Adventurer
Brendon Whitmore – Ecotherapist, Craniosacral Therapist, Deep Nature Connection Mentor and Wilderness Rites of Passage Facilitator
Submit Payment to:
Account name:  Restorative Relationships
Account Number: 01-0322-0212196-01
Reference:  [your name]
Code:  Daylong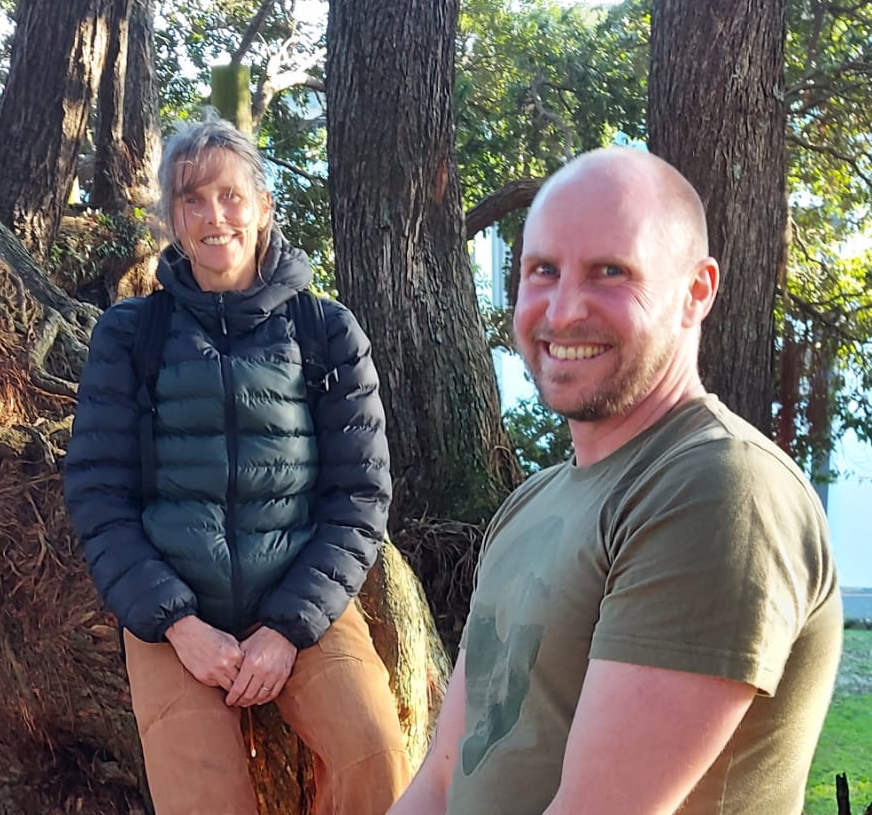 Mindful/Somatic Approaches
to Trauma Therapy
10-day Comprehensive Trainings
There has been a steady movement within the field of trauma therapy over the past few decades towards the increasing recognition that:
(a) Psychological trauma (i.e., PTSD, acute trauma and developmental trauma) is primarily held within the body and nervous system
(b) Working directly with the body (via sensations, impulses, breath, posture, etc.) is therefore key to resolving entrenched trauma conditions
…and (c) That a particular attitude of open curiosity to one's present experience—i.e., mindfulness—is an extremely helpful component to recovering from these conditions
As therapists and other helping professionals supporting people who grapple with unresolved trauma, we are fortunate that a number of methods have been developed in recent years that incorporate these principles, and which have been providing tremendous healing for millions of people around the world who have struggled with trauma conditions.
Among the most well established of these methods are Hakomi Mindful Somatic Psychotherapy, Sensorimotor Psychotherapy, Somatic Experiencing and EMDR. In these trainings, you will learn and practice an integrative approach to mindful-somatic trauma therapy that draws from the collective wisdom and practice of these and other closely related methods.
In particular, you will…
… learn a simple yet powerful universal framework for making sense of extreme emotional and traumatic states, helping you to identify where your clients' experiences are on the spectrum of ANS (Autonomic Nervous System) arousal, and therefore which interventions are likely to be most helpful at any given point in the therapy process. This theoretical framework is based on the latest research on the psychology and physiology of trauma.
… learn a broad map outlining the essential stages of the overarching process of trauma-focused therapy.
… develop your own capacity as a therapist to remain present and grounded, safely holding the space for clients to do the difficult work of trauma recovery, while not risking your own dysregulation, vicarious trauma and "burnout".
… learn a number of effective yet relatively simple mindful-somatic tools based on these methods that you can begin using right away to…
Help your clients develop confidence working with strong feelings and nervous sytem dysregulation
Help your clients develop a sense of groundedness, presence and orientation
Help your clients to develop a rich and healthy connection with their own feelings and needs
Make the distinction between a beneficial "emotional release" and being "stuck in a trauma response"
Work with flashbacks, intrusive memories and nightmares
Work with somatization (unresolved feelings/memories held within the body)
Additional Info for the 10-day Comprehensive Trainings
The 10-day Comprehensive training expands upon the practice and theory of the 2-day workshops (details above). For those who are new to this work, we will be covering all of the basic theory and methodology to make full use of this approach, so it is not required that you have prior training in any particular method. However, due to the highly experiential nature of this workshop, it is highly recommended that participants have some counselling/psychotherapy experience prior to attending this training.
The overall structure of this training is divided into the 3 main stages of trauma therapy – Resourcing, Trauma Processing, and Integration

Stage 1:  Establishing a Foundation & Resourcing

In this stage, we begin by establishing a solid foundation on two different levels:

(1) Providing a basic overview of the theory and practice of this highly integrative approach to trauma therapy.

(
2) Developing the therapeutic skills and capacity necessary to prepare ourselves and our clients to venture into the often challenging terrain of trauma recovery. This will include developing our own mindfulness and self-care skills so that we as therapists have the capacity to carry out this demanding work; and establishing effective therapeutic alliance with our clients—cultivating the safety and empathy necessary to embark upon more serious trauma therapy.

We then shift the focus to resourcing—supporting our clients (and ourselves) in managing overwhelming emotions and regulating their nervous systems in various ways, with a particular emphasis on mindful and somatic approaches. We often refer to this stage of the trauma therapy process as "establishing a base camp," an essential prerequisite for moving into the more vulnerable work of trauma processing.
In this stage, we draw particularly from the methods of mindfulness, Hakomi, Nonviolent Communication (NVC), Sensorimotor Psychotherapy, and Somatic Experiencing.
Stage 2:  Trauma Processing

The first part of this module will focus primarily on methods of processing/resolving unresolved trauma. Having prepared the foundation (i.e., "base camp") in our previous module with personal self-care/presence/groundedness, with establishing an effective therapeutic alliance with our clients, and with establishing our clients' confidence in working with strong states of mind and body, we are ready to embark upon the more adventurous work of directly processing the unresolved trauma.

We will learn and practice an integrative model of trauma processing, which will include a number of different processing methods, and learn how to identify which of these is most suitable given our clients' particular situation and experience.
We will also learn how to work with more specific trauma experiences such as dissociation, flashbacks, nightmares and intrusive memories.
Finally, we will learn how to work with parts (i.e., in trauma, especially developmental trauma, parts of the person's personality can become fragmented in various ways, and healing often requires the re-integration of these different parts).

In this stage, we draw particularly from the methods of Hakomi, Sensorimotor Psychotherapy, Somatic Experiencing, and Internal Family Systems.
Stage 3:  Integration
This is the final stage of this trauma therapy approach. After having experienced significant personal transformation as a result of working through and resolving trauma, many people find that their interests, values, passions and relationships with self and others have shifted significantly. We will learn a number of ways of supporting our clients in further integrating the transformation that has occurred, and of incorporating these shifts into their lives outside the therapy room.

In this stage, we draw particularly from the methods of Hakomi, Nonviolent Communication (NVC), Somatic Experiencing, Internal Family Systems and Acceptance and Commitment Therapy (ACT).

*Due to the highly experiential nature of these trainings, it is strongly recommended that participants have some counseling/psychotherapy experience prior to attending.
*In order to maximize individual support and allow for sufficient social distancing in our workspace, these workshops will be capped at 24 participants.
10-day Comprehensive Training – Dunedin, NZ
Module 1:  9-10 September, 2022 (Fri-Sat)
Module 2:  14-15 October, 2022 (Fri-Sat)
Module 3:  18-19 November, 2022 (Fri-Sat)
Module 4:  9-10 December, 2022 (Fri-Sat)
Module 5:  3-4 February, 2023 (Fri-Sat)
Times:  9:00am – 5:00pm all days
Cost:     
Early bird discount – $1,950 prior to 31st July


               ($2,250 afterwards)
Venue:  The Malcam Charitable Trust
10-day Comprehensive Training – Wellington, NZ
Module 1:  26-30 Sept, 2022 (Mon-Fri)
Module 2:  28 Nov – 2 Dec, 2022 (Mon-Fri)
Times:    9:30am – 5:00pm all days
Cost:       Early bird discount – $1,950 prior to 15 August
                 ($2,250 afterwards)
Venue:   Quaker Meeting House
Wild at Heart
Somatic Ecotherapy Immersion
10 Day Professional Training in Somatic Ecotherapy
Kauaeranga, Thames, New Zealand
 1 – 11 November, 2022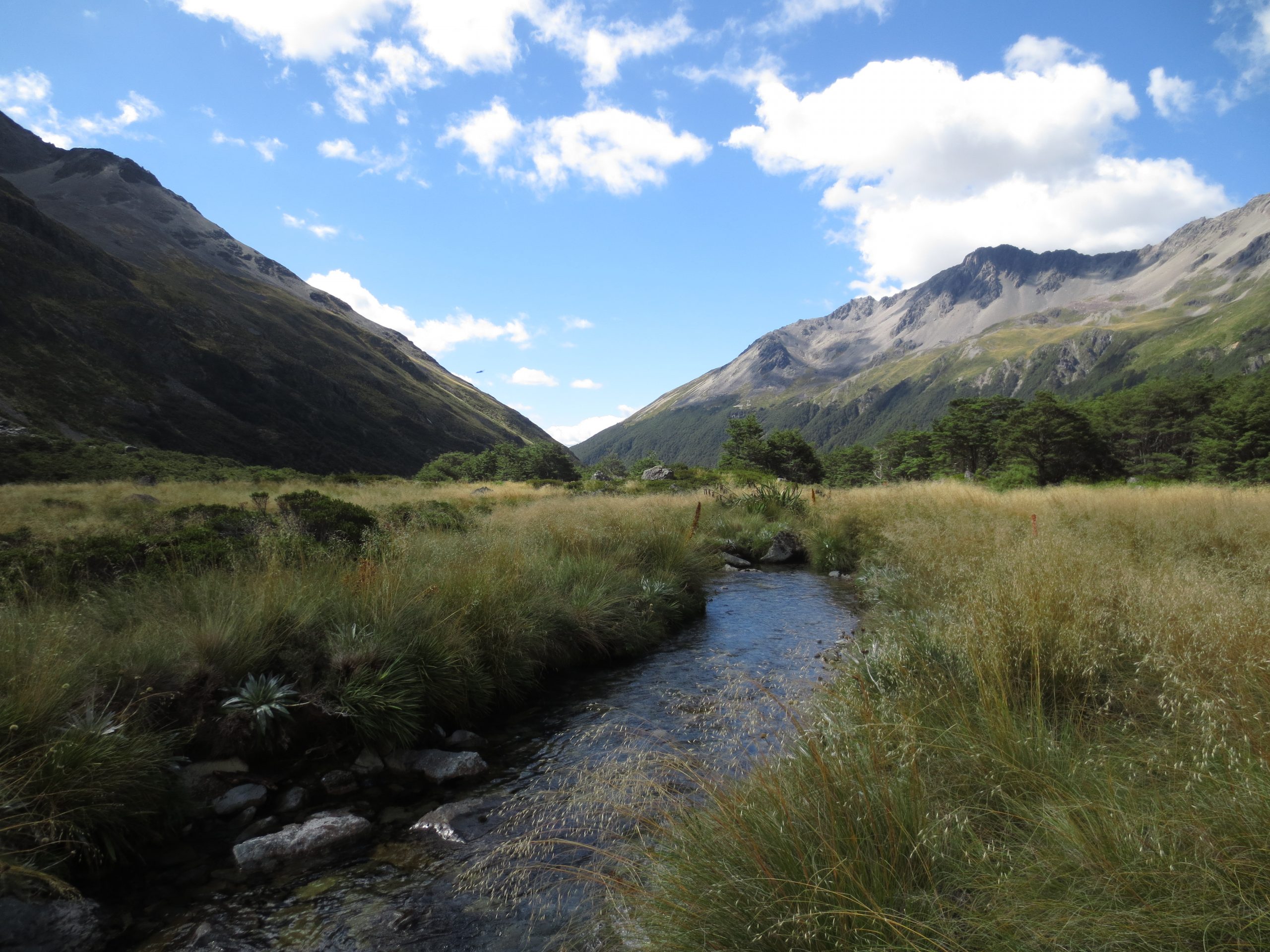 What is Ecotherapy?
We notice it ourselves. We notice it in others. The experience of groundedness, unity, wholeness, connectedness, peace… when we spend time in the natural world. Ecotherapy is not a new concept. It has been an inherent aspect of our existence on Earth for as long as we have been here.
It's only a recent development in human evolution where being in nature is something that we go and "do." Prior to this, our interdependence with nature was an obvious necessity. Consequently, as research is showing, the absence or forgetting of this necessity is resulting in many harmful and discouraging effects, both personally and collectively.
Ecotherapy, then, involves the intentional re-connection with the natural world as a profound gateway to our own healing and renewal.
About this training
This training draws from the work of many before us – those who have received ways of honoring, connecting to, and relating to the natural world from a long line of wisdom keepers.
Alongside this ancient wisdom, we bring the recent knowledge and expertise of the teachers who have dedicated much of their personal and professional lives to broadening the access to, and supporting the embodiment of, these teachings.
We utilize practices that support us in reconnecting to our inherent knowing, discovering our unique place in the natural world, and claiming the healing, growth and transformation this makes possible.
The primary professional modalities that inform this training are: Somatic Ecotherapy, Nonviolent Communication (NVC), Hakomi Mindful Somatic Psychotherapy, Internal Family Systems, Creative Arts Therapy, and Mindfulness. Some specific attention will also be given to working with trauma.
The specific lineage-holders of knowledge that this training takes particular inspiration from are: Dave Talamo with Wilderness Reflections; Steve Foster and Meredith Little with The School of Lost Borders; Joanna Macy with The Work that Reconnects; Jon Young with the Wilderness Awareness School; Bill Plotkin and the Animus Valley Institute; Ron Kurtz and Hakomi Mindful Somatic Psychotherapy, and S.N Goenka with the Vipassana Meditation Centre.
The Structure of this Training
This is a four-module 10 day residential training and includes an overnight wilderness vigil.
The purpose of the training is to support participants in (a) developing their own intimate relationship with nature, (b) developing a solid structure for facilitating an Ecotherapy session, (c) incorporating a number of different therapeutic modalities well suited for this work (see above), and (d) determining where their own particular level of comfort is in this way of working.
Each of the four modules will revolve around the theme of one of the four cardinal directions (North, South, East and West) and their associated stages of human development and transformation (drawn particularly from the work of Meredith Little and Steve Foster and the School of Lost Borders, and from the work of David Talamo and Wilderness Reflections). As part of each module, participants will explore each of these developmental stages in relation to their own personal life journeys, in relation to the various cycles found in nature, and with regard to facilitating the healing and transformation of their clients.
Course Framework: 4 Modules 
Module 1:
 

"Establishing Basecamp" –

 

Resourcing
Theme: 

 

Gathering resources and establishing alliance, with nature, our clients, and our essential self
Module 2:  "The Foothills" – Accessing

 

Theme: 
 

Identifying the therapeutic threshold and venturing forth.
Module 3:  "Climbing the Mountain" –
 

Processing
Theme:  Navigating the territory of unhealed wounds and unresolved trauma.
Module 4:

 

 "Back to Basecamp" – 
 

Integration
Theme: 

 

Weaving the rewards of this transformative journey into ordinary consciousness and our everyday life.
Dates:  November 1st – Nov 11th 2022
Location:  Kauaeranga Outdoor Education Centre, Thames
    ——————————-
(Note: There is an invitation on the final evening of module 4, to participate in an overnight wilderness vigil. More information can be provided upon request)
Meet the Teachers:
Toni McErlane – Ecotherapist, Counsellor, Mediator, Nonviolent Communication (NVC) Facilitator, Outdoor Adventurer
Paris Williams – Doctorate in Clinical Psychology, Ecotherapist, Hakomi Teacher, Somatic Trauma Specialist, Outdoor Adventurer
Brendon Whitmore – Ecotherapist, Craniosacral Therapist, Deep Nature Connection Mentor and Wilderness Rites of Passage Facilitator
Course Investment:
$3,250 (Early bird rate of $2950 if paid by the 1st September 2022) 
* price includes tuition, all lunches/dinners, & spacious dorm-style or camping accommodations
Submit Payment to:
Account name:  Restorative Relationships
Account Number:  01-0322-0212196-01
Reference:  [your name]
Code:  Ecotherapy
 

Testimonials From previous Ecotherapy Immersion Participants
"My ecotherapy experience was one of spirit-firing sacred mystery, reverent communion with beings both human and non-human, and profound visions, insights and personal transformation.
A place where song emerges from deep below, where communion with nature took me to a place of deep soul discovery, release and knowing, and where I felt so loved, nourished, honoured and at peace, at home.
 I stretched and danced beyond the edges of what I thought possible in terms of my connection with self, others and the natural world. I laughed, cried, slept soundly, dreamed intensely, experienced spiritual world visions and feelings, sung around the fire and formed connections that run deep.
 An experience like no other I've ever felt, my hosts gently weaved their energy into resonance with mine and others, holding a sacred and potent ceremonial , creatispaceng a rhythmic flow and providing wise and gentle guidance."
"I can highly recommend the Ecotherapy training with Toni, Bren and Paris.  Their deep relationship with the natural world is obvious from the land they have established themselves on, the environmentally friendly calibre of the facilities, and the running of all sessions (except if it's raining too hard) outdoors around the firepit, beside the prayerstick.   They have between them a great depth of therapeutic training and experience and they have fully committed to sharing this to the highest level of excellence, while each also bringing their personal style and flair.  The traianing manual is clear and succinct and the training programme carefully structured. Each step/task builds steadily upon the previous ones, with enough time for questions/clarification and integration.  I have learnings and insights from this course that will stay with me for the rest of my life"
Waitati Ecotherapy Centre, Waitati, Dunedin
1st December – 8th December, 2022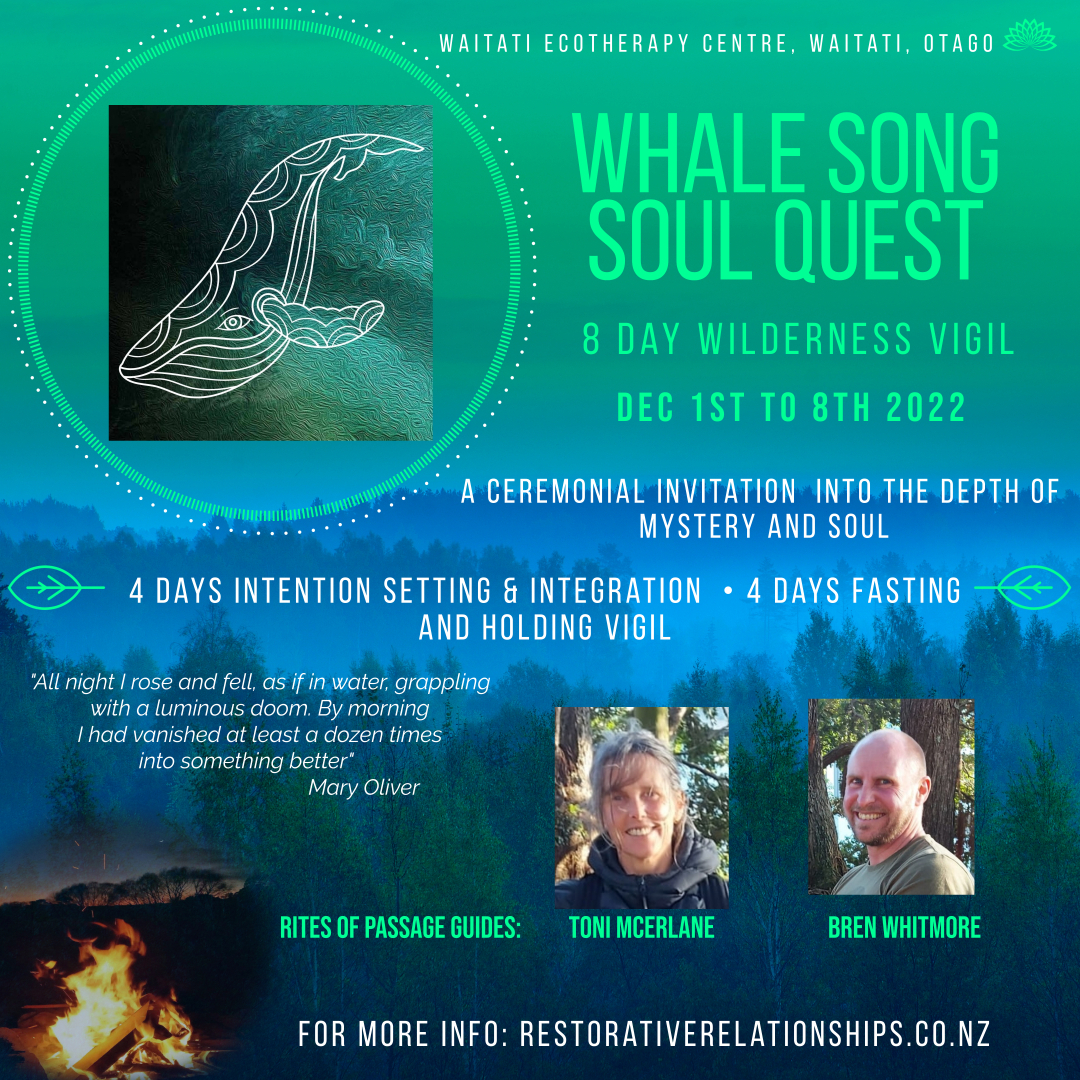 Do you feel stuck without direction or purpose?
Has the fullness of life evaporated your creative soul?

Are you longing for solitude and reflection to listen deeply?

Or are you wanting to just pause and allow your authentic creative self to show you a more soul driven path?
If you feel ready to plunge into the depths of your own mythic adventure into the wilderness, to step into the humble passage of seeking vision, then we invite you to this ancient ceremony. A ceremony that is beyond any human teaching and until recently has been hiding in the dark rich soil of the forest unseen. This ceremony, sometimes referred to as a Vision Quest, has been carried out pan-culturally as a Rite of Passage for thousands of years and it is now time to re-awaken the ceremony in the modern day so that together we may flourish as individuals and communities with the Earth.
Throughout this ceremony you will be supported by experienced guides and therapists who have all undertaken their own Whale of a dive into the wilderness passage. They encourage you to step into the unknown and give up a little bit of comfort, in return you may just find what you have been seeking.
Structure of the Program
The is an eight day program that includes pre and post individual sessions to support participants to gain the most of their quest experience.
The first two days on the land will be in group where you will be supported by your guides to gain clarity on your intention and to prepare. The solo time is four nights after which your are welcomed back with ceremony by your guides and supported to integrate and weave your experience on the land into your daily life.
Follow up support after you go home in also included.
Why Whale Song?
In Myths, Folklore and Tribal Cultures the world over, Whales are considered the wisdom keepers of our great Mother Earth, where the sacred knowledge and guidance for our personal change and spiritual growth resides. Symbolically, Whale also reminds us to re-connect with our Great Mother, to remember our deeper connection to the ecology of life. The archaic echo sound of the Whale reminds us to slow down and connect to our own rhythmical nature, to feel into our hearts with Earth and remember the heartbeat we all shared when we were in our own Mother's womb.
For more information about this process please contact us to set up a time to answer any questions.
Meet Your Guides:
Toni McErlane – Ecotherapist, Counsellor, Mediator, Nonviolent Communication (NVC) Facilitator, Outdoor Adventurer
Paris Williams – Ecotherapist, Hakomi Teacher, Somatic Trauma Specialist, Outdoor Adventurer
Brendon Whitmore – Ecotherapist, Craniosacral Therapist, Deep Nature Connection Mentor and Wilderness Rites of Passage Facilitator
Quest Investment:
Early bird rate of only $1,250 until 31st September ($1,350 afterwards)
*includes meals and camping accommodation
Submit Payment to:
Account name:  Restorative Relationships
Account Number:  01-0322-0212196-01
Reference:  [your name]
Code:  SoulQuest